Being injured in a car accident can turn your life upside down. The mounting medical bills and phone calls from insurance adjusters seem never ending, and many accident victims are unable to work due to their injuries. The award-winning legal team at Davis Law Group will fight for you to help ease this financial strain and ensure your legal rights are protected. Contact us today to learn more about how we can help you and your family.
Choosing The Right Car Accident Lawyer
If you have been injured in a car accident in the Seattle area or elsewhere in Washington state, you may be concerned about the mounting medical bills, what to say to the insurance claims adjusters who keep calling you, and how long you may be out of work as a result of the collision. The top-rated team of accident attorneys at Davis Law Group, P.S. can can help you understand and protect your legal rights and options after a crash.
Hiring a lawyer can improve the chances of a successful car accident settlement or jury verdict for your case, while also taking care all of the heavy lifting involved in pursuing a claim. This allows you and your loved ones to focus on healing and getting your lives back on track. And if you hire the award-winning attorneys at Davis Law Group, you will never have to speak to an insurance adjuster again. Call Davis Law Group at 206-727-4000 for a complimentary case review.
Seattle Car Accident Information, FAQs & More
Important Steps To Take After An Auto Accident
The car accident insurance claims process is complex, but there are a few crucial steps you can take to protect yourself and preserve your legal rights after a crash:
Don't apologize or admit fault. Many accident victims complicate matters by apologizing to the other party, even if they didn't do anything wrong. It's important to avoid apologizing or doing anything that could be misconstrued as admitting fault for a collision, as the insurance company may attempt to use that against you later on.

Decline quick settlement offers. We've seen first-hand how insurance companies will attempt to settle claims quickly, even before an accident victim understands the true extent of their injuries or other damages that may result from a collision. Contact an attorney before you sign anything for the insurance company.

Focus on healing from your injuries. Medical evidence is crucial to any car accident injury claim, and it's important that you see a doctor as soon as you are able. Clear and timely medical records can help support your claim and limit the insurance company's defenses.

Request a free legal consultation. The team of reputable attorneys at Davis Law Group, P.S. will review your case absolutely free of charge.
What Is My Car Accident Case Worth?
The value of your case depends on a number of different factors, including:
Medical Expenses. You are entitled to compensation for all medical costs related to the injuries you suffered in a Seattle automobile collision. This includes past and future medical care.
Non-economic Damages. Pain and suffering, loss of consortium, and emotional trauma are common forms of non-economic damages after an accident.
Lost Wages & Earnings. Compensation for wage loss is usually based on how much money you would have earned if you had not been injured.
At-Fault Driver's Insurance Coverage. Our legal team will investigate every possible avenue and source of recovery to ensure that you get what you deserve. If the at-fault driver was carrying a policy with low liability limits, we may be able to identify other sources of recovery.
Your Insurance Coverage. If you have Personal Injury Protection (PIP) or Uninsured/Underinsured Motorist (UM/UIM) coverage, your chances of being fairly compensated fully are much higher. Unfortunately, even your own insurance company is likely to put up a fight over these benefits.
Potential Litigation. Insurance companies want to avoid the risk of a jury awarding a large verdict to accident victims at all costs. Our experienced trial attorneys can help you get the best possible settlement.
There are a few common factors to consider when attempting to determine value of a car accident injury claim. Every case is unique, therefore there is no magic formula for predicting the amount of money a person is entitled to receive after being hurt in a crash.
There are two types of damages that are recoverable in a automobile collision claim; economic damages and non-economic damages. Past and future medical bills, past and future lost wages, and the cost of household services are examples of economic damages. Non-economic damages are more subjective, such as mental and physical pain and suffering, and emotional distress.
Who Pays For My Medical Bills After A Crash In Washington State?
Bodily Injury Liability Coverage carried by the third-party who is responsible for causing your accident is often the most common and most substantial source of financial recovery for injury victims. Liability coverage does not pay for your treatment as you go, however, and a settlement is usually collected after the victim has completed medical treatment for their injuries. Therefore, other forms of insurance coverage may come into play:
Health Insurance coverage is often helpful to accident victims who cannot afford to pay for their medical costs out-of-pocket. Your health insurer may be entitled to recoup some of the benefits they paid after you receive a final settlement.
If you have Personal Injury Protection (PIP) then a certain portion of your initial medical costs - like an ambulance ride to the hospital, initial X-rays and medication, and so on - will be covered by your PIP benefits.
Uninsured/Underinsured Motorist (UM/UIM) Coverage may also add additional coverage in the event of a hit-and-run or an accident with a driver who does not have adequate liability insurance. A health insurance policy, perhaps obtained through your employer or by Apple Health, may also provide certain benefits for your medical treatment.
If you have questions about the types of insurance coverage available in your case, call our office today to speak with our award-winning legal team. We can help you better understand your legal rights and our attorneys will review your case free of charge.
What Are Comparative Fault Laws In Washington State?
Liability is often biggest question following a Seattle car accident. Liability determines who must pay for the damage caused by the collision. In Seattle liability for an accident is determined by Washington State negligence laws and is based on fault:
Washington is a pure comparative negligence state. When means that any person who is at fault for an accident is responsible for that damage. However, if the person claiming damages shared in the fault, then their damage recovery may be reduced in proportion to the amount of shared fault.
Washington State allows for no-fault coverage. Whether or not you can recover damages from your own auto insurance company depends on the kind of insurance you have. If you have no-fault coverage, regardless of who is at-fault, your insurance policy will cover your damages up to your policy maximums.
Washington State's Mandatory Auto Insurance Laws
Washington state's mandatory auto insurance law requires anyone who drives a motor vehicle in our state to carry a minimum of $25,000 per person in liability insurance coverage. Other required coverage minimums in Washington State are:
Bodily Injury Liability Coverage: $25,000 per person / $50,000 per accident
Property Damage Liability Coverage: $10,000
Underinsured Motorist Bodily Injury Coverage: $25,000 per person / $50,000 per accident
Underinsured Motorist Property Damage Coverage: $10,000 per collision
Basic Personal Injury Protection*: $10,000 per accident
Unfortunately, there are drivers on the road who don't carry enough coverage, or have no insurance. Which is why uninsured and underinsured motorist (UM/UIM) coverage can help pay for your injuries/expenses if you are in an accident with an uninsured driver or one who is unable to cover your costs.
Washington State Statute of Limitations For Car Accidents
In Washington state, the Statute of Limitations (SOL) for many types of motor vehicle collision cases is three (3) years from the date of the accident. There are some exceptions to this rule, including situations involving minors under the age of 18.
Even though your SOL may not expire for quite some time, you may still want to promptly consult with Seattle car accident attorney in order to protect your rights, maximize the value of your claim, and increase the odds of a favorable outcome. .
Working With Insurance Companies After Your Car Accident
Insurance companies do not want you to hire a lawyer, and instead want you to believe that resolving a car accident claim is a simple matter that you can do yourself. The truth is that many accident victims would benefit from the assistance of an attorney who specializes in auto accident cases.
You should know that insurance adjusters are trained to minimize the settlement you receive for your damages. The best way to ensure that you get a fair settlement or award is to have a qualified car accident attorney who understands the insurance system, is well prepared and experienced in trying these cases in court, and of course, will do everything possible to fight for your rights.
Washington State Auto Accident Statistics
According to 2017 WSDOT data, an automobile collision occurs every 4 minutes and a person dies due to a car crash every 20 hours.
According to WSDOT, the number of vehicle collisions with suspected serious injuries totaled 1,932 for the year 2017.
Suspected serious injury collisions went from 1,896 in 2016 to 1,932 in 2017, resulting in 2,229 serious injuries.
King County accounted for 40,192 (33 percent) of car wrecks in Washington state in 2017 and 538 (28 percent) of serious injury collisions.
Source: Washington State Department of Transportation
Fatal Car Accident Data For Washington State
The number of fatal automobile crashes increased from 508 in 2016 to 525 in 2017, resulting in the death of 555 people.
Source: Washington Traffic Safety Commission
Seattle Motor Vehicle Accident Statistics
Fatal accidents in Seattle declined by 5% from 2015 to 2016, which is much better than the national and Washington state trends.
Serious injuries for all types of Seattle traffic accidents increased by 19.6% from 143 to 171.
Source: Seattle Department of Transportation
According to the Seattle Department of Transportation, these ten roadways are Seattle's busiest during weekday rush hour traffic.
West Seattle Bridge
Aurora Avenue N south of Harrison
East Marginal Way S south of S Alaska Street
Mercer St. west of Fairview
NE 45th St west of Roosevelt Way NE
Montlake Blvd north of NE Pacific Pl
15th Avenue W north of W Armory Way
Elliott Ave W southeast of W Mercer Place
S Michigan St east of 6th Ave S
Common Types Of Washington State Auto Accidents
A motor vehicle collision can happen in a number of different ways, and no two accidents are identical. Some of the more common types of Seattle automobile collisions that our lawyers see at Davis Law Group include:
Head-On Crashes: Two vehicles collide head-on, the violent impact can cause very serious injuries or death.
Hit-And-Run Collisions: When the at-fault driver flees the scene of a collision.
Rollover Accidents: These incidents typically occur when a vehicle is trying to avoid a collision or an object or animal in the roadway.
Rear-End Impact: Liability for a rear-end crash typically rests on the following vehicle.
T-Bone (Side-Impact) Wreck: Most commonly found at intersections where one driver has run a stop sign or red light.
Pedestrian Accidents: Pedestrians are vulnerable to serious injury in a collision because they are not protected by a vehicle.
Parking Lot Fender Bender: Parking lots are private property, which can cause a number of legal issues in the event of an accident.
Freeway On-Ramp Or Off-Ramp Accidents: Improperly or illegally-parked vehicles can cause a serious collision on the on-ramp or off-ramp of a freeway or highway.
Common Causes Of Seattle Car Accidents
It is important to understand that all car accident cases are different and unique in some way or another. That being said, there are some common factors and causes that our lawyers often see in car crash cases, including:
Distracted Driving: Drivers are often distracted by the cell phones, GPS systems, etc inside of the vehicle.
Drunk Driving: Under the influence of alcohol .
Drug Impairment: Under the influence of marijuana or other drugs.
Dangerous Roadways: If a dangerous roadways or poor highway design.
Teen Drivers: Inexperienced teen drivers may have a poor understanding of traffic laws.
Reckless Driving: Vehicles traveling over the speed limit or following too closely.
Uncontrolled Intersections: A lack of traffic control devices or signs.
Illegal Turns: Illegal left-hand turns and U-turns at traffic signals or in uncontrolled intersections can lead to a serious accident.
Speeding: Drivers traveling too fast for conditions.
Snow Or Black Ice: Accident involving snow or ice on the roadway.
Wrong-Way Drivers: Drivers who travel in the wrong direction of a road or highway.
Speak With An Experienced Car Accident Lawyer in Seattle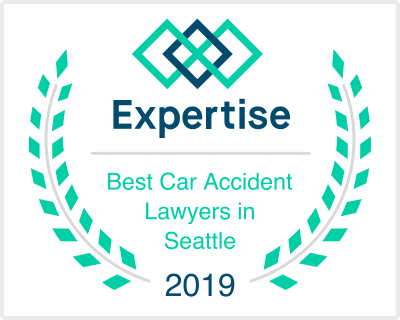 A majority of car accident victims don't fully understand their legal rights. At Davis Law Group, our legal team focuses on helping our clients understand the law, their rights, and the claims process. Our award-winning lawyers are dedicated to helping you get the best possible result for your injury case.
Contact the award-winning team of car accident attorneys at Davis Law Group today to have your case reviewed personally by our award-winning legal team, or call our office at (206) 727-4000 to request a free legal consultation.
Davis Law Group, P.S.
5
stars - based on
160
reviews